5th Generation Accord Online Community
1994-1997 Accord Forums

Welcome to CD5Tuner.com, a fifth generation Honda Accord online community. Here you will find a plethora of information about the 5th gen, and a friendly base of members to share your CD5, CD6 and CD7 love with. CD5Tuner is a forum based community, with an aim to make it easy for anyone to participate in wealth of information. You must register to post topics and replies on the forums, but are free to browse them without joining. You may click on one of the links above or to the right to get started.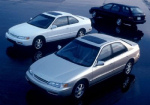 5th Gen-eral Info

The CD chassis started in 1994 and lasted through 1997. It shares many similarities with its predecessor, the CB chassis. Similarities include suspension components, motor series and transmission series. In 1995, Honda debuted its first V6 engine in the Accord. The Accord is available in 4-door sedan, 2-door coupe, and 5-door wagon variations. Transmission options include a 4-speed automatic, and a 5-speed manual (V6 available with automatic only). Motors in the lineup consist of a 130hp 4-cylinder, a 145hp 4-cylinder VTEC, and a 170hp V6. 139 lb/ft, 147 lb/ft, and 178 lb/ft of torque, respectively.



The 5th gen Accord appeals to tuners and enthusiasts not only for it's reliability, but for it's performance potentials and wide aftermarket. We hope you enjoy your stay at CD5Tuner.com. Knowledge is power, and power is the key to win!
forum links
members rides